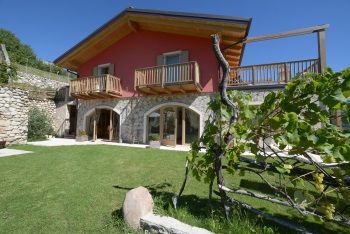 Agritur Maso Spezial is a building finished to accomplish in August 2010, with an ancient taste: small rooms in the walls made with our hands, nooks and uncommon corners create a special atmosphere.
The courtyard of energy and the large garden are excellent appendices to the rooms and give you the opportunity to deeply live the feeling of relaxation that gives the environment.
The use of wood and the stones of the place, the attention that we put into respect for nature, with the restoration of all the furnitures of the farm, the use of natural and ecological spirit that accompanied the construction of the unique antique furniture with the use of our lumber, salvaged from plants of our woods, leads us to be proud of the environment we have created.
The wood boiler, the use of superior quality materials, solar panels for hot water and underfloor heating and the noise insulation between the different rooms, make particular our Farms, which is certified Class B Climate House .
Enjoying a good glass of wine produced by us, in good company, maybe sitting in the garden with your look lost onto the Val Lagarina, with the sun grazing in the mountains, immerse yourself in the true meaning of life: the quiet and peace, peace with the world and with yourself.
Cuddled by Valentina's dishes, with our jams of each type of fruit grown without the use of chemicals, cakes, strudel and homemade bread, and accompanied by the narratives of the herbalist, writer, poet and historian with the spirit of the storyteller Bruno, surely you will remember your visit in this little corner of serenity of our.
For those who want to deepen culturally the a visit to our Agritur, there's a chance to participate in the courses taught by owners during the whole year.
If you love the family atmosphere, in our house you will definitely feel at full ease, just like at home.
---